A New Dog Can Learn Old Tricks
"I entered what is sort of surprising in downtown Toronto — essentially a suburban sized big-box store"
I had decided a quick fix to my current need for radios in both the bedroom and the kitchen was to purchase a single modest speaker that could connect via Bluetooth to my phone/laptop/tablet. I did some cursory research and found 3 or 4 options, all apparently in stock according to the BestBuy Web site at a store located on my route home.
Now, I could've just ordered one of these little speakers via Amazon or BestBuy, but I thought why wait 2-3 weeks for delivery when I could walk into a well stocked store and walk out minutes later with an item I could test and see in person. BestBuy even offers a way to order an item you want that may be out of stock and have it delivered to the store of your choice, but that could take 24-48 hours and I wanted this thing now, not later. It's the whole reason for a bricks-and-mortar store, right? The immediacy and ease of the shopping experience was only minutes away. Right? No, not right.
I entered what is sort of surprising in downtown Toronto — essentially a suburban sized big-box store. I've read BestBuy is struggling against online competition but this store seemed like a shiny oasis for the urban shopper. This massive store wasn't very busy and there seemed plenty of blue-shirted staff milling around, though all somehow occupied and too busy to help me. The shelves appeared well stocked until you looked closely. Most of the items on the shelf were dishevelled and distressed display models messily set up for demos that didn't actually function and none of the models were stocked on the shelves below. Of the 4 speakers I was considering, none were in stock despite what the Web site had told me. I was flabbergasted. I have no idea how "flabber" plus "gasted" equal frustration but that's what I felt. I spent most of my time trying to find someone to help me until I finally had to walk behind the customer service desk to get someone's attention. When I did get some help, it was confirmed that none of the items I was looking for were in the store. How could it be? It was a huge store with lots of other junk in it. It's not like I'm looking for a rare gemstone. The items I was looking for are pretty popular and common. The sales person assured me ordering an item from another store could arrive by the next day. What good would that do me, I was there today, not tomorrow. I didn't want to come back again. I left in a disappointed daze.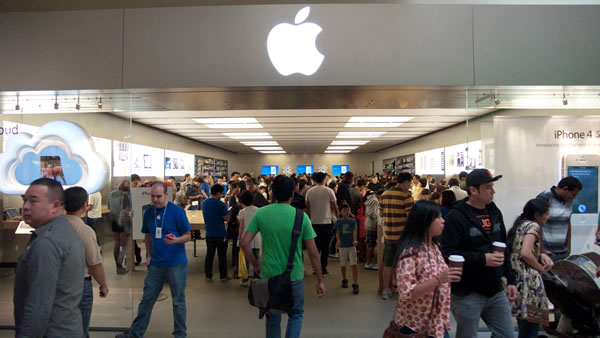 Luckily I was next door to one of Toronto's largest shopping malls. As I looked over the information kiosk I realized of the 7 electronics store listed, only 3 weren't mobile phone shops. One, The Source, is sort of a tiny and poorly stocked with entry level brands (re: crap), the other, Sony, was the opposite, but obviously only carried Sony products. Lastly, was the Apple Store. I had very little expectation Apple would take up space in their tiny store with someone else's products but I thought I'd give it a quick look as I was so close by. When I walked in it was like the Apple Store always is, busy and noisy and thick with people being instructed on how to restart their iPods. There were plenty of Apple employees helping people and surprisingly there were tightly packed cupboards of Apple-friendly products including all of the Bluetooth speakers I was looking for and few I hadn't seen before. On large clear tables, each of those products was orderly displayed and available to try out.
After a few minutes I had tested a few options and when I decided on the one I wanted, I saw they not only had it in stock but this particular model came in 5 colour options - all stocked. I was even convinced to go with a more expensive option (after all, this one speaker was saving me from buying two radios). When I picked the colour I liked, a store employee asked if I needed help and suggested I could check the item out myself on my phone if I wanted to. Which I did and then I left satisfied.
To be clear, the Apple Store is probably less than a quarter the size of the BestBuy store, was loud and busy yet had plenty of items to choose from that were tidily displayed which I could try out and they had all options offered in stock and even a very busy staff member was able to help me while helping another patron. In the end, I checked out the item without assistance or a paper receipt or an unneeded bag and the whole process was faster than even trying to get someone's attention at BestBuy.
Are BestBuy in financial trouble? Are they losing customers? Probably. They're doing everything in their power to lose business. There's so much value in being able to walk into a shop and walk out with something under your arm but some stores have forgotten the very basics of retail. A tidy, well stocked shop with helpful staff. It's something Apple figured out. How's that for a new dog learning old tricks?
Labels: technology, Toronto