Seen in… May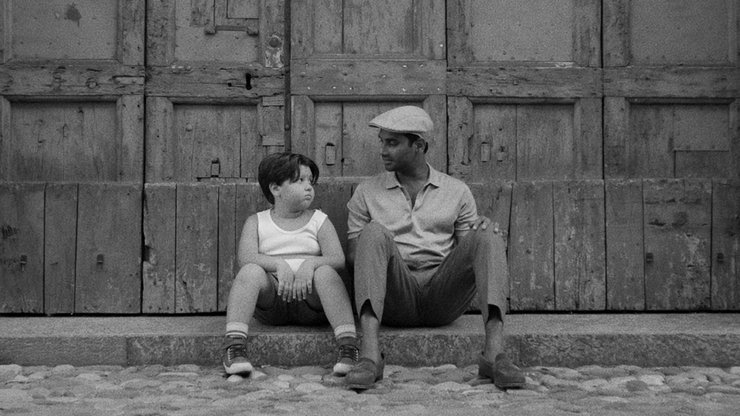 In a month that began with Hot Docs Film Festival I watched exactly three movies, only one of which was a documentary. So much for best laid plans and such. It was a decidedly introverted month full of long work weeks, migraines, bad backs, knee and wrist sprains (
update: chipped wrist bone, not a sprain
).
Galaxy of the Guardians Vol 2
Joyfully fun and masterly comic and action-packed bit of fantasy escapist fun. The film returns to our crew of Peter Quill and company as they jump from the frying pan to the fire. Perhaps I am going through "something" but this silly comic book space adventure was packed with emotional moments about the family we're born with versus the one we create. To borrow a sentiment from the Flight of the Conchords, "I'm not crying, my eyes are just a bit sweaty today."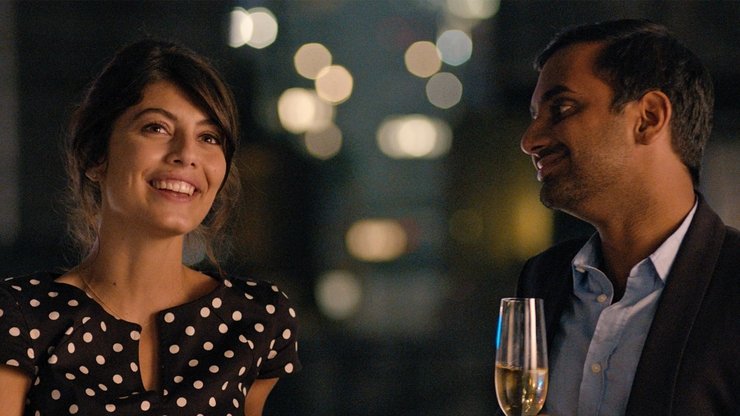 Master of None season 2
In a continuation of all the feelings, this show by Aziz Ansari is sort of a wee miracle and not because of Dev Shah's (played by Ansari) diminutive stature. This show isn't really as funny as a comedy should be, but that doesn't it mean it isn't great. It's a little like a dash of Curb Your Enthusiasm, a large spoonful of Louis (by Louis CK) and I don't know, maybe Mary Tyler Moore, if Mary were an Indian-American dude living in New York thinking about loneliness, relationships, modern sexuality, race, religion, family and friendships. The show is also acutely self-aware with a lot of nods and winks to both current cultural trends and a classic film repertoire, not to forget the great selection of music that makes up the soundtrack. There are entire articles devoted to discussing the show's musical and cultural references. All of this is encapsulated in Dev's pursuit of relationships via modern dating apps, confronting his lack of faith and the compromises he makes to his religious parents, his growing feelings for a woman already in a relationship, and the sexual and racial politics he navigates in his own career. One interesting aspect of the show is how it throws out the norms for a comedy thus making the most of the platform Netflix has created. Most episodes are in the 30 minute range making it easily digestible, but one episode comes in closer to an hour and two or three episodes leave the main protagonist entirely to focus on supporting cast members or an episode devoted entirely to New York which flows from one unconnected character to another. Modern life is a tapestry and Ansari wants to explore every thread.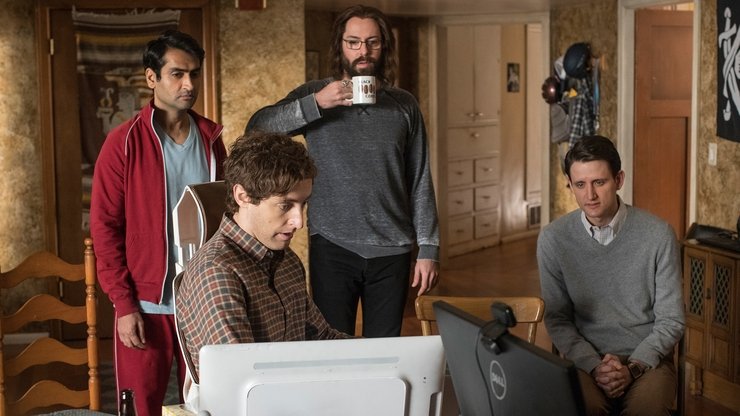 Silicon Valley Season 4
As the little startup at the centre of this comedy pivots the show only improves. I still can't tell if I love this comedy because it's a hilariously accurate send-up of the tech industry that I work in it or if it is genuinely funny on its own merits? I still don't care.
Halt and Catch Fire Season 3
This drama set in the late 80s/early 90s during the formative years of the tech sector is like an earnest Silicon Valley. At the centre of the story are four very clever (maybe brilliant) people of the type that essentially created the connected world we live in today. Apparently this series was created to capture the kind of zeitgeist of Mad Men while leveraging the current nostalgia for the 80s. It doesn't succeed like Mad Men did but it's still a fun ride and does have a great throwback soundtrack. I know in a good drama, there are no black or whites but season 3 seems to cast shade on even some of the most likeable characters. I know it's fashionable to make shows with no clear "good guys" or "bad guys" but I still want someone to root for.
Veep season 6
This comedy, like Silicon Valley, is said to be a better portrayal of Washington than a drama like House of Cards. This season with the main character, Selena Meyers, no longer in office but spending time filling the coffers of her not-for-profit foundation while trying to have a presidential library built seems even more accurate as we watch both the Clintons and Obamas vie for world attention in a life after politics. The show remains a brutally funny take on politics and even if you don't like the stories you can watch it just to build your arsenal of entirely ribald and off-colour insults.
Far Out Isn't Far Enough: The Tomi Ungerer Story
Tomi Ungerer was for a time, the most famous illustrator and creator of children's books anywhere in the world. He was also a prolific artist who created many iconic anti-war posters during the Vietnam War era. He was known for his modern, loose, painterly and sketchy style and a tremendously wry humour that seemed to bridge ages and generations. His colourful stories were favourites of parents, children, librarians and school teachers. The fact that his work crossed from advertising campaigns, poster art, album cover art to children's books amazed many of his contemporaries. As a young Alsatian who grew up under Nazi occupation in France, Ungerer was seen by Germans as too French, but by French countrymen as too German and a Nazi collaborator (how a child collaborates is a curious notion) so he set forth to find a place without all the classism and biases of old Europe by heading off to New York City. Post war New York was a hot bed of every kind of Modernism. Architecture, industrial design, music, filmmaking, graphic design and illustration were in a kind of exciting golden moment of American invention that has rarely been seen since. As a kid I wasn't really aware of Ungerer as an artist but as a teen and design student I was amazed to discover the breadth of his work. Never having seen any of his work beyond the late 60s or early 70s, I assumed he had died. Instead, it turns out he was black listed, not for any political ideology but well, because puritan America simply wasn't ready to accept a person who illustrated beloved children's books could also sketch funny, erotic scenes of S&M. In fact, American publishers today are probably even less inclined to accept the fact that a man who creates kids books can also be a grown man whose sexual interests and dark humour would produce artful reproductions of adults doing some pretty odd stuff with their genitals. This documentary explains Ungerer's childhood, his early success, his treatment as an outcast and his departure from his beloved New York City to a beautiful and bucolic Irish town. This is a pretty straightforward documentary yet the subject is anything but.
Jafar Panahi's Taxi
Jafar Panahi is an award winning Iranian filmmaker and director and is a pretty big deal in his home country, yet he is little known in the west because he's been forced to live under house arrest for creating films the Iranian government deem unacceptable and anti-Iranian. Despite being banned from making films, Panahi keeps finding ways to defy his oppressors. Jafar Panahi's Taxi is his third film created while under house arrest and government scrutiny. Panahi uses a sort of cinema verité style to drive around Tehran to meet a cross section of the metropolitan city's citizens. The entirety of the film takes place within his cab as he picks up an obstinate conservative, an injured motorcyclist and distraught wife, his young niece, a lawyer working to protect political prisoners, fans of his films and a colleague who is concerned he's being watched by government agents and it's only a matter of time before his arrest. The film's ability to show us such breadth of Iranian life is amazing as it is accomplished with essentially a couple of GoPro cameras, a point-and-shoot camera and a couple of mobile phones. If you think you can't afford to make a film, then picture yourself as a political prisoner who manages to make a movie from a dashboard camera confined within a car and you'll know how art can be made with very few affordances. Also, if you only know Iran from the revolutionary rhetoric, you need to see this view of one of the world's great cities.
Unbreakable Kimmy Schmidt Season 3
I was really into this show because of it's energy, comedy and spirit but this third season waned for me as most of the characters are impossibly stupid and fail to learn from their mistakes or move on in any significant way. That's fine for most sitcoms but I guess I wanted more from this show. I still binge watched it in a few days, and I laughed but it was empty hollow laughter and now I can't remember why I laughed at all.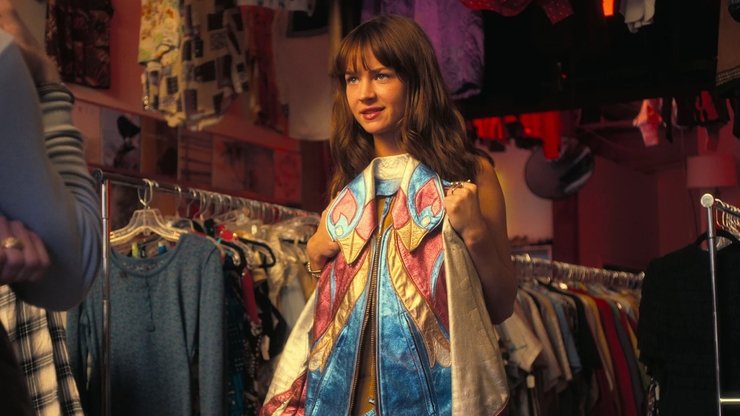 Girlboss Season 1
2017 has seen a lot of "Girl/Woman" empowerment stories and this show fits the bill. It's loosely (apparently, very loosely) based on Sophia Amorosa's book Girlboss which tells her story of taking a successful eBay store from selling sometimes slightly modified vintage women's clothing to a fashion empire known as Nasty Gal. Nasty Gal was until recently a runaway success, selling hip, trend-leading clothing to successful young "body conscious" women (I don't think they sold much in larger sizes). As Nasty Gal grew, Amorosa became a billionaire but recently it's become a rags-to-riches-to-rags story as the company has declared bankruptcy protection. Apparently, being a beautiful, hip 20-something with a great eye for fashion trends does not make you a great CEO and the company has faltered under Amorosa's direction who has now stepped down as CEO but remains on the board. While I'm enjoying the show, it is a little hard to root for an asshole-ish brat just because she's a super-cool, incredibly cute spark plug of entrepreneurial energy. I've said this before, I'm all for showing a protagonist who has many shades of personality traits (some good, some bad) but I should still want to cheer for them, for better or worse and this show isn't always giving me that. What's strange is how this story really mirrors a couple of other once successful, now failed young female CEOs (namely Elizabeth Holmes of Theranos and Miki Agrawal of Thinx). I'm not saying young women can't be CEOs, I'm just saying some people grew businesses very quickly without enough managerial experience, then failed and then fell into a favourite old chestnut that journalists love retelling. That being an Icarus narrative wherein a young symbol of "You Go Girl-ness" who despite being intelligent, attractive and talented failed due to over-confidence and brashness but may soon rise from the ashes (another journalistic trope). I think what we forget is most entrepreneurs are constantly somewhere on their own timeline of fantastic success or fantastic failure and it is a continual state of being both Icarus and a Phoenix, not merely one or the other.